Design in compliance with cooling towers hygienic standards.
The choice of EC technology is in compliance with the Ecodesign Regulation (EU) 327/2011 on the implementation of Directive 2009/125/EC (ErP) for minimum efficiency threshols after 202x.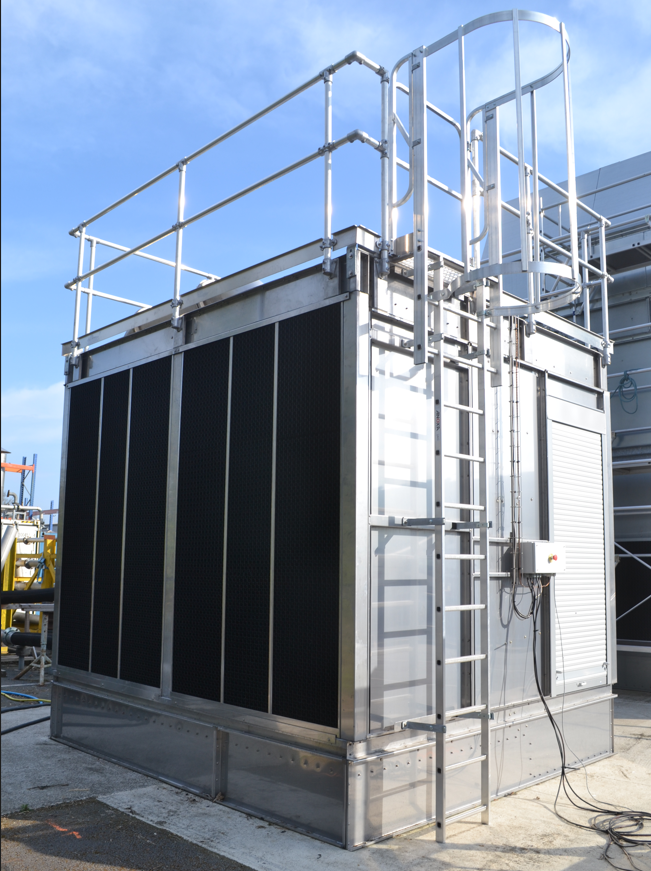 Maintenance ease unmatched to date on the market:
Direct motor drive EC technology for no mechanical maintenance
Jacir has chosen a multi-motor fan ventilation system to ensure emergency capacity and thus garantee optimal operation without process interruption over a long period,
A sliding shutter access over the entire height of the maintenance corridor secures the inspection of the tower's internals,
Drop seperators dissociated from the packing whose disassembly has been thought to facilitate maintenance.
SILENCE
The noise of the waterfall is attenuated due to the configuration of the crossflow tower, combined with the low noise level of the EC motors.
SAFETY
Full access to the sloped, UV-protected basin in all high water level areas,
Easy electrical connection via terminal box at man height for quicl connection,
Secure access (ladder and footbridge) is offered as an option for secure maintenance according to Jacir standards,
The first performance tests have been successfully carried out to obtain EUROVENT / CTI Certification in order to garuantee the announced performances (certificate in progress).