How does adiabatic cooler work?
The adiabatic cooler technology results from the combination of a dry air cooler and an adiabatic pre-cooling section: this pre-cooling section has the role of lowering the temperature of the ambient air by evaporation of water on media designed for that purpose.
The TOPAZ NEO and ZYRCO adiabatic coolers are both equipped with:
Two vertical heat exchanger tube coils,
A set of humidifier media for pre-cooling by evaporation,
EC motors,
A group of low noise axial fans.
What are the benefits of adiabatic cooler technology?
Adiabatic coolers comply with the NF E 38-424 standard of December 2020. They have the following advantages and characteristics:
No water spray in airflow ;
EUROVENT certified coils ;
Elimination of legionella risk ;
No external fouling of the tube coils, which extended life expectancy ;
No water treatment required ;
Very low water consumption ;
Easy maintenance due to the vertical "H" shape of the tube coils, enabling full access through the central door.
What is the use of a TOPAZ NEO adiabatic cooler, drainable option?
Without glycol or thermal load, the coils are exposed to freezing, making complete draining of the circuits uncertain.
In order to overcome this, we have innovated, and we are now able to offer you two additional options on the range of TOPAZ NEO adiabatic coolers.
The drainable coils allow complete draining by gravity, without the injection of compressed air. We have made this process possible thanks to the design of copper collectors and a particular arrangement of the tubes.
In addition to the drainable coils technology, we have completed our offer with the associated electronic and hydraulic regulation, allowing draining in the event of a general outage to secure the battery.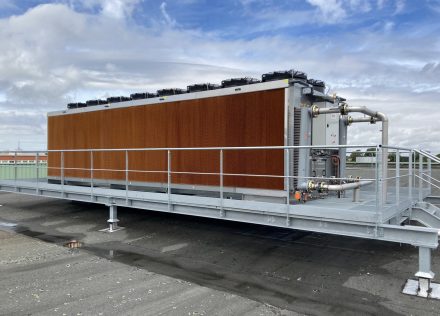 TOPAZ® NEO series : adiabatic cooler, drainable, H-designed coils, metal, EC motors