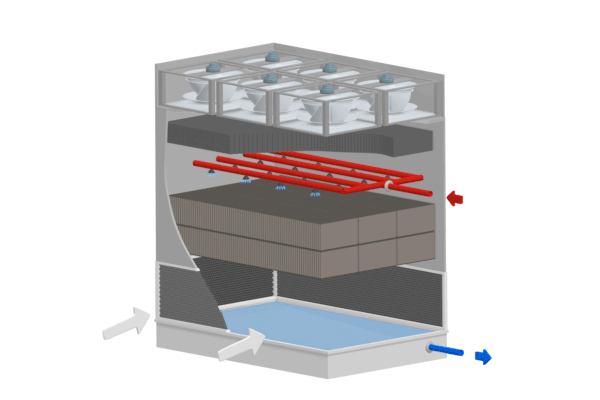 Innovative cooling tower compliant with latest European hygienic standards and EUROVENT-CTI thermal performance certified : highest energy efficiency, mechanical reliability and optimised performance.
Our products
Welcome at JACIR
For over 60 years, JACIR has combined the know-how acquired in aeraulics, thermal and manufacturing materials, in order to offer you an extremely diversified range of products, adapted to all of your needs
French cooling tower manufacturer for 60 years, JACIR supports you by providing you with a team of technicians fully dedicated to the renovation and evolution of your equipment: we are committed .to offering you the best solutions in order to optimize the reliability of your equipments and optimize its performance, in compliance with the requirements No. 2921
"For me, the efficiency of the variable speed drives on the fans of our JACIR cooling towers is no longer to be proven: real energy savings are easily achievable and measurable through a GTC."
"This technology of motors directly coupled to the propeller (therefore eliminating the gearbox) met our requirements: motors that consume less energy and are much more precise in the aeraulic regulation."
"The air circulation and quality are better and the risks for the collections are perfectly controlled. We are very pleased with this brand-new technology."
"I particularly appreciated the responsiveness of JACIR, who was able to understand the extent of our problem, propose solutions adapted to our constraints and guarantee delivery in record time"
"We were seduced by the JACIR technology during a visit to a site on which they had supplied cooling towers. The manufacturing quality of this equipment is remarkable, and the design focuses on ease of operation."
"After trying different technologies, we realized that the JACIR cooling towers, of durable quality and made in France, were the most efficient, to the point of regretting not having tested them sooner! »
"JACIR delivered to us in 2004 a suitable solution for cooling the particularly heavy-duty water in our metal shot manufacturing process. In 2008, to replace old cooling towers, we tripled the JACIR cooling towers and chose the "extractable body" option....
"We already had a fleet of JACIR cooling towers since 2004, recognized as the leader in the French cooling tower market. In charge of the extension of the concession for MINATEC's Utilities Service Pole, the project owner wanted to renew...