An industrial company in the field of coated fabrics has selected JACIR to replace its open cooling towers with an adiabatic dryer.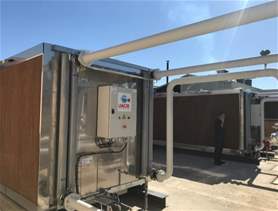 What were the reasons for this choice?
The age of the open cooling towers made their maintenance difficult.
Their cooling was increasingly uncertain and irregular.
Hygiene rules were becoming compromised, as the cooling process was uncertain.
The advantages of the TOPAZ NEO dry adiabatic system also played a role in the decision:
Drastic reduction of water consumption due to a closed cycle
Possibility to use the available city water and thus to do without its treatment.
Ease of maintenance due to full internal access to the dryers.